Torrevieja, sun, sand and the ideal destination for indoor training, athletics, swimming and racket sports
Torrevieja has a large Sports Complex, with a wide range of facilities for indoor training, athletics, tennis and swimming. The Infanta Cristina sports complex is a multi-purpose centre, with a large central competition track for any indoor sport and an air-conditioned Olympic pool used by professional swimmers for training.
The Pabellón Cecilio Gallego Complex has a multi-purpose track with special floating flooring for sports, specially installed to prevent sports injuries. The centre is designed to host competitions at any category and level. La DanielPlazaAthletics Track is officially recognised for elite level training. It consists of a 400-metre track divided into 8 lanes, certified synthetic track (Tartan), and is designed for all track events, with hurdles for different modalities and water moat. It also has special areas and facilities for the high jump, hammer, javelin, 2 zones for long jump, etc.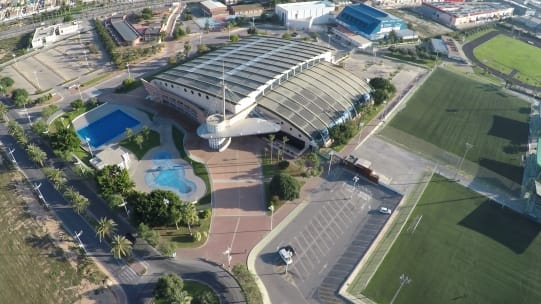 The racket sports area has 10 tennis courts, a central court for competitions with seating, 7 paddle tennis courts with a central court that can hold 200 spectators; 2 squash courts with seating for 100 people and two covered pelota courts. In addition, there is a 400-metre gymnasium with specialist machinery. 
The Ciudad Deportiva de Torrevieja, has 4 football pitches with artificial grass, 4 eleven-a-side pitches and 6 seven-a-side multi-purpose pitches. These are the Esteban Rosado, Gabriel Samper, Joaquín García "Nito", Estadio Nelson Mandela (adapted for rugby) and the Estadio de Fútbol Municipal Vicente García, the last of which is a natural grass pitch.
The bay of Torrevieja is home to many sports player who come to practice different types of rowing. The Club Náutico de Torrevieja and the Marina Internacional and Marina Salinas have a number of clubs and schools that specialise in competition and pre-season training.
You'll find high quality facilities, perfect weather all year long and a city that welcomes tourists. For more information about our sports facilities, see Torrevieja Sports City